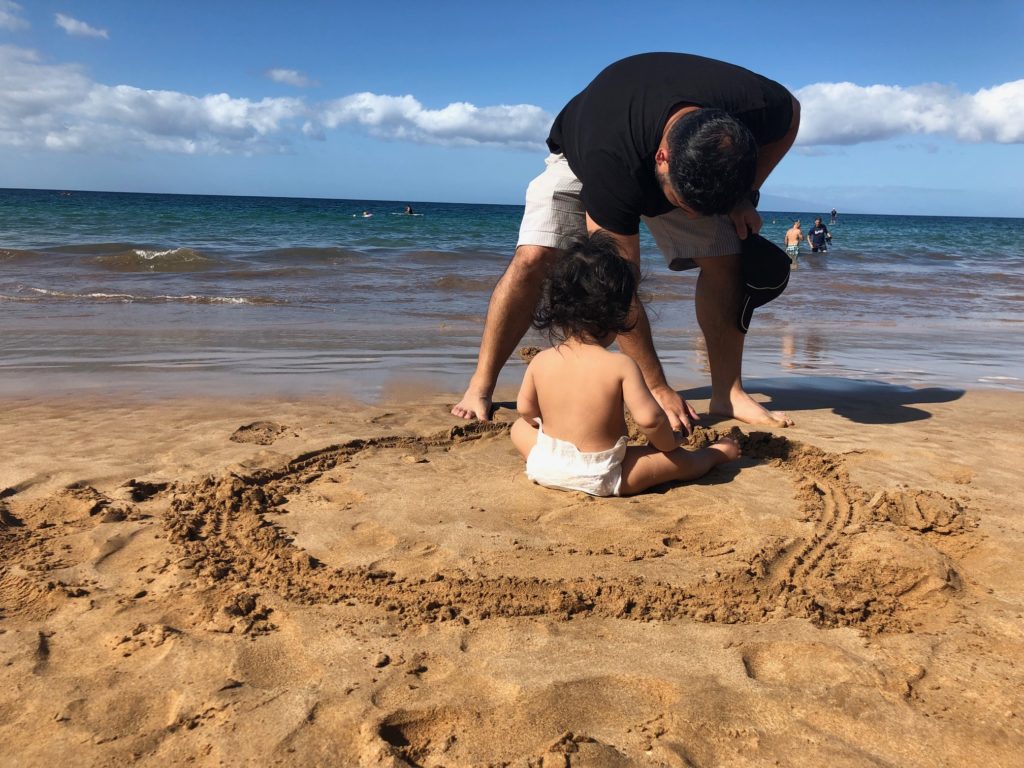 My husband and I have been an avid travelers for years now. We love traveling, beaches, historical sites, adventures, you name it. I take great pride in being able to plan trips (single handed most of the times) and honestly planning trips give me that energy and rush that I crave. I am in my element when I get to organize events, checking off action items and lists, and making sure everything goes smoothly prior to the trip so that the travel day is relaxing.
However, since being pregnant (bad morning sickness) and after our little one was born, we put a little break on our travels. After all, traveling with a baby requires a lot of planning, a lot more than finding a great destination.
We recently traveled to Maui with our 9 month old daughter. When I first started planning for the trip, I researched quite a bit on Google :). Unfortunately, I couldn't find a site that gave me comprehensive details that satisfied my needs, they didn't have the specifics that I was looking for. I was basically looking for a prescription on here what you need when traveling with a baby to Hawaii. Since our travel, a lot of my friends with little kids have reached out to me asking to share tips on traveling to Hawaii i.e. planning, packing, activities, etc. I thought doing a post would really help a lot of other parents who really want to travel but are scared by the thought of planning. This post is meant to be simple and to the point so if you have any additional questions please comment below and I would be more than happy to respond. Enjoy your travels!
What are some tips for traveling with a baby
Book your flights so that it aligns with your LO's nap time. Depending on where you're flying from, it takes anywhere from 6-20 hours. If your flight is longer than 6 hours then it doesn't really matter when you fly. However, if it is 6-9 hours it's best to get a flight where your baby can right after take-off.
Similar to the above point, it's best if you can feed (bottle or breastmilk) during flight take-off and landing. The ear pressure change, because of the rapid change in altitude, can really irritate the babies and they may cry throughout the flight. So, feeding them right during take-off will help. I know, I know, you can't just make up an ideal scenario that works perfectly for the baby. So then what do you do? Give him/her water to suck on or give them half the milk during their regular time and the other half during take-off or landing.
Kids can entertain themselves on the flight for hours. Don't keep them constricted. Instead, let them explore, while being cognizant of the people around you. Babies are cute, esp, when they are yours BUT other passengers may not quite feel that way. Be respectful of others' space but also don't be that ultra-cautious parent that doesn't want to be one of those parents on the flight. You don't need to take a lot of toys, may be a book or two, some snacks, let them play on the floor (when it's safe), let them say hi to people. This will definitely relieve you of the unnecessary stress.
Last but not the least, try to get them to take their regular naps. Whether that means you rock them to sleep or carry them on a carrier. By now, we all probably know this, babies are the happiest when they are well rested.
If this is your first visit to Hawaii, just set your expectations right, you will definitely not get to do everything and anything as you would've imagined. If you baby has a schedule you have to work around that and there is absolutely nothing wrong with that. You just have to plan smart 🙂 and you can see that on the next post. You'll still get to enjoy the place and it will be very family focused for sure.
Travel light! Instead of going through the hassle of taking the car seat and stroller (worrying if it will make it in one piece), just rent. It's such a peace of mind. It's not expensive to rent at all. We got ours from Maui Vacation Equipment. They send you instructions on where to pick up, which is right by the airport and also close to Target in case you need to buy anything immediately.
Most importantly, stay at a place that is convenient and accessible. Whether you choose to do Airbnb or stay at one of the resorts, find an area that is not too far from attractions on your list, the beaches and the city center should you need anything immediately. Remember Hawaii is an island and anything and everything is very expensive compared to the mainland. If your LO is already eating solids then I would recommend getting a place with a kitchenette. You also don't need to take a lot of food from here as you can get them at Target.
I've heard and read that some people find baby sitting through the hotels so that parents can have a night out. I personally didn't do this but if you are comfortable with such an arrangement I think it's absolutely worth it! We traveled with my mom so one of the nights we asked my mom to put the baby to sleep while we went on our date night and it was just what we needed, our cozy just US time. We get so busy with daily lives and baby activities that it's so so important to find that time for ourselves.
What to pack for Maui/Hawaii: Baby
There used to be a time when I used to have my own luggage with everything and anything I could possibly need for a trip. Same thing with my husband. However, this time the story was a little different. My husband and I packed 1 suitcase with our must haves that we took as a carry on and then we had 1 luggage with all the baby stuff that we checked in. Because this was a slightly longer trip for us, we wanted to be doubly sure we packed everything we thought we would need for our daughter. Although a lot was packed, not everything was required. Below is a list of what we think is useful:
Diaper (day and night) & wipes
Aquaphor
Snacks for the flight
Pack some lentils and rice if you plan to cook there. You can also buy it in stores, but could be a bit of drive from where you're staying.
Swim suits
Infant Sunscreen (a must!)
Flap hat (if you baby keeps on a hat ever)
Ergo Baby (baby carrier)
Baby float (our LO absolutely loved this)
If you plan to hike or walk a lot I would recommend Osprey Baby Carrier. You can also check this in as a car seat which btw is free of charge
Pack light onesies and also dresses and or shorts for the baby. It can get a little chilly, in the evenings, depending on the month you're traveling.
Lastly, pack their lovey. Our daughter is obsessed with her blanket and she soothes herself with her little blankie. This will be handy especially during the flight and bed time.
And even if you forget anything it's absolutely alright! You'll realize how resourceful you can be during such time. Don't sweat it 🙂
Where to Eat in Maui, Hawaii
Planning activities while carrying and infant can be challenging. As my husband and I have been to Maui before, we were ok with not doing some of the 'must dos' in Maui. We, instead, chose to keep it relaxing with a few activities. Below are my top 5 activities we did this trip:
I hope this helps you get started with the trip planning. Please do share any other helpful suggestions, tips or hacks you use when traveling with an infant.
Happy & safe travels!
XO, Naya